Credit Card Deposits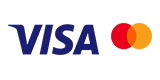 Credit cards like Visa and MasterCard are accepted payment methods at 888casino NJ. These credit cards are expressly designed to safeguard personal information and financial transactions. With Visa and MasterCard, you are assured of the most sophisticated antifraud technology on the market, so even if your wallet goes missing and your cards are stolen, you will not be liable for fraudulent transactions. MasterCard offers ID theft protection™, in the event of a lost physical wallet. The chip technology features a microchip embedded within the card that increases the level of protection against fraudulent activity.
Visa and MasterCard go to great lengths to protect clients from phishing scams by providing educational tips, tricks and resources to clients to safeguard personal information. Credit cards allow seamless online transactions, with zero risk, and maximum protection. All credit card transactions are protected with 3-digit security codes, and cutting-edge chip technology allows for instant validation of account information. Note that 888casino NJ does not permit gift cards bearing the MasterCard or Visa logo.
888casino NJ players can rest assured that Visa and MasterCard continually scan accounts for unusual activity. If any questionable transactions are conducted, your bank will instantly be alerted of this activity. It is possible to place charges on hold while instances of fraud are being investigated. Fortunately, credit card companies like Visa and MasterCard will not hold clients responsible for fraudulent transactions, thanks to zero liability policies. When you use Visa and MasterCard to play online casino games at 888, your information is protected at all times.
All deposits are verified secure, and you will be required to provide proof of ID, with your name, address, credit card information, and other identifying data. You can enjoy real-money online casino games with complete confidence by depositing funds from your Visa or MasterCard account direct into your online casino account. SSL technology and the highest encryption protocols at 888casino NJ are your guarantee against third-party interception of your personal financial information.
Read more
Our Score for Credit Card Transfers
Credit cards are among the easiest ways to transfer funds into your 888casino NJ account. They are ideal for topping up your account so that you can play online casino games for real money. The wide range of safety and security features with credit cards are your guarantee against fraud. 888 Casino NJ does not charge you to make credit card deposits, however, your credit card issuer may bill the transaction as a cash advance. Contact them to verify this beforehand.





Credit card deposits are quick and easy to process at 888casino NJ. Simply login to your casino account, navigate to the cashier, and choose Credit/Debit Card from the deposit options available. Enter the amount and click submit.





888casino NJ does not charge you anything to make a credit card deposit. However, you may wish to contact your card issuer/bank to find out if there are any cash advance fees billed to you.





Credit cards are 100% safe and secure to use at 888casino NJ. Players have the dual security of 888 SSL software and the credit card protections and safeguards.





Visa and MasterCard are widely available to online casino players in New Jersey, and are among the most popular credit card options in the world. However, credit cards are not available for withdrawals





Deposits made via credit cards and debit cards can take up to 10 minutes to process.





Why Use Credit Cards at 888?
Credit cards are widely used for many payment-related purposes online and at land-based stores. 888casino NJ is a fully licensed and regulated operator that accepts Visa and MasterCard as deposit options. Likewise, Visa and MasterCard process deposits to 888casino NJ. Credit cards are perhaps the safest option for you, since any transaction that you have personally not processed will not be billed to you.
Smart technology, multiple security layers, and personal protections are assured when you're depositing with credit cards. You can set limits on your credit cards, in addition to the limits already in place at 888casino NJ (maximum single deposit limits of $600). There are many failsafe mechanisms in place when you use credit cards to fund your 888casino NJ account.
Security
As previously alluded to under the safety features, Visa and MasterCard are equipped with the most sophisticated technology to protect against unlawful usage (phishing, pharming, theft, or interception) of your credit card details. Whether your credit card has been intercepted online through hacking activity, or your physical credit card has been stolen, you will be protected at all times by your credit card issuer – Visa or MasterCard. Among the many safety protocols are smart chip technology, zero liability for fraudulent transactions, and educational tips and tricks to help you prevent fraud from taking place. 888 has also implemented various safety and security measures such as SSL (secure socket layer) technology, firewall protection, and encryption to keep your transaction safe, secure and private.
Simplicity
Visa and MasterCard are easy to use. Players from New Jersey will find credit cards to be the most convenient way to safely deposit funds into their 888casino NJ account. It's just like online shopping, except that you are simply depositing funds into your own account.
Rapid Processing
888casino NJ expedites the processing of credit card transactions. You can expect your deposits to be available within 10 minutes, perhaps shorter provided there are still funds available in your credit card account. Please note that there are no withdrawals permitted with credit cards at the casino.
Costs
888 Casino NJ does not charge players to use their credit cards. However, you may wish to contact your bank/financial institution to see whether there are any cash advance fees levied on credit card transactions. For details of fees for MasterCard, click here. For details of fees for Visa, click here.
Easy to Use
Credit cards are relatively easy to use. Login to your 888 casino NJ account, navigate to the cashier and select the credit card option to make a deposit. That's how simple it is.
How to Deposit with Credit Cards at 888?
The deposit process is easily conducted by following these steps:
Login to your 888casino NJ account using your username/password.
Navigate to the cashier.
Click the deposit option.
Choose credit card/debit card from the deposit methods.
Enter the amount you wish to deposit.
Click the submit button to process the transaction.
Please note that withdrawals are not possible with credit cards at 888casino NJ.
Where can I Get this Payment Method?
Visa and MasterCard credit cards are readily available online through their respective websites, or through your local bank in New Jersey. You will need to be approved for a credit card. Once you have been issued a credit card and it has been activated, you can use it at 888casino NJ.
Further Information about Credit Card Transfers
888casino NJ players are welcome to contact customer support for more information on credit card transfers to your online casino account.

Email – Click Here

Telephone – Toll Free: 1-855-218-6234

Available Hours – You can make credit card deposits into your 888 account around the clock.
Conclusion
Visa and MasterCard are both accepted, reputable, and credible deposit options at 888casino NJ. They offer multiple security features to protect you against unauthorized use or fraud. They have zero liability coverage, and smart chip technology to guard against third-party interception of your personal financial information. 888 does not allow withdrawals via credit cards, and deposits are subject to verification. If you suspect any fraudulent activity on your card, you can always contact the credit card issuer and placed the transaction on hold pending investigation. Deposits can be processed in as little as 10 minutes, with a minimum deposit amount of $10 and a maximum of $600 per transaction.